Projects and Campaigns
Jump to... Montrose Quarry - Montrose Fire Safety Garden - Peoples' Garden - Montrose Playground - Walkabout Montrose - Spinulosa
Montrose Quarry
Stop the expansion of Montrose Quarry!
MEG was very active in the successful opposition to the expansion of Montrose Quarry during the late '90s and early 2000s. The proposed expansions to the Montrose Quarry would have removed important native vegetation as well having other significant environmental impacts. Below is a comparison of the existing quarry pit and the proposed quarry pit after expansion.


Issues
Contravention of the EPA 500m buffer zone: worsening after expansion
Health impacts of inhaled dust particles on children, older adults, people with heart or lung diseases, diabetes - causing asthma attacks, bronchitis, heart attack...
Proximity of housing, schools and aged care facilities
Prolonging of these existing problems for 12-20 years beyond the current pit life expectancy
Dust will increase due to overburden removal
More properties will be affected by a larger quarry, to a greater degree and for more years
Threatened forest types will be destroyed
Loss of a known Powerful Owl roosting site
Loss of trees with nesting hollows
A long history of community opposition
Lowering of the water table, concern for Shrubby Gully Forest vegetation community and Bungalook Creek
The end-use presents many ongoing logistical problems for years to come
Blasting causes vibrations and startling
Noise
Visual impacts
Traffic
There is no net community benefit
Timeline of Events
The 1965-66 Campaign
Opposition to the quarry pre-dates MEG's involvement by 30 years. In June 1965, the Lilydale Express labelled the quarry the "Cancer of the Dandenongs". At the time, The Age stated "It is obvious that if the proposal is accepted a vast area could be completely 'prostituted' to the vested interest of big business".
In May 1966 Minister Hamer refused the quarry expansion due to negative impacts on "nearby residential areas, both existing and future" from dust, traffic and the "adverse effect on the natural beauty of the surrounding area".
Despite unified opposition the quarry was given a licence to continue mining until 1988.
The community expected the quarry to close but the licence was repeatedly renewed and expanded, without disclosure to the community.
The 1996-99 Campaign
In 1996, Boral sought authority to expand the quarry from 57.5 hectares to 74.6 hectares. MEG led community opposition to the expansion, including a public meeting, doorknocking and making presentations to Council. The expansion was rejected by Council in late 1999.
The 2003-08 Campaign
In late 2003, Boral launched a new bid to expand the quarry, this time by 7.9 hectares. They said the quarry would be exhausted by about 2013 without the expansion and twelve years later with the expansion. (The quarry is still functioning in 2016 even though the expansion did not occur.)
MEG representatives met with councillors and sought their assurances that the proposal would be rejected. MEG also conducted an extensive public information campaign called 'STOP' about the many negative (including health) aspects of the quarry's operations. The campaign included support for anti-expansion candidates in a Council election.
MEG members Graeme Lorimer, Kim Wormald, Claire Thomas and other local individuals met Boral regularly with Boral, government agencies and others in a Stakeholders Reference Group.
Boral appointed a public relations firm to handle queries, complaints and to explain their proposals. There was a free call phone number and queries taken at the Boral website.
MEG enlisted the aid of the Environmental Defenders Office for legal advice.
In June 2004, Boral organised street meetings and a Community Information Day to explain their proposals.
From 2004 to 2007, an Environmental Effects Statement was produced with 14 separate studies paid for by Boral at a cost of $3.5 million.
In November 2007, in light of what had been revealed about the impacts of the expansion proposal, councillors voted to stop the proposal by abandoning the required planning amendment.
At that point, Boral's only hope was for Planning Minister Justin Madden to take the matter out of Council's hands. Therefore, MEG lobbied the minister not to intervene. That led in June 2008 to the minister declaring that he would not intervene, killing the proposal.
Status as at 2016
Although Boral had claimed it needed the expansion to keep the quarry going beyond about 2013, the quarry is still operating. As at 2016, Boral's website still treats the expansion proposal as current and they could theoretically apply again.
However, Boral obtained Council approval in 2014 for a 37-lot light industrial subdivision of land that used to be their main area for gravel stockpiles, on the western side of Fussell Rd. The land has been cleared, ready for development. The loss of land for storing gravel from the quarry suggests the quarry is winding down. This indication is supported by sequences of aerial photographs over recent years.
Further Details
Boral (Montrose Operations)
Lilydale & Yarra Valley Leader (Sep 2015)
---
Montrose Fire Safety Garden

The Montrose Fire Safety Garden is a joint project of Montrose Environmental Group, Montrose Fire Brigade and the Shire of Yarra Ranges. It was established to demonstrate how garden design, maintenance and plant selection may assist in protecting homes against bushfire. The garden is located between the historical cottage and the maternal and child health centre at Montrose, and is open freely to the public 24/7.
The garden is designed to show safe features such as gravel paths near buildings. Plants in the garden have characteristics that make them less flammable, and include local indigenous species that naturally occur around Montrose, other Australian native species and non-Australian exotic species (see the attached brochure for a list of planted species).
For more information, read the
Montrose Fire Safety Garden brochure
and take the self-guided walk around the garden.
The garden is only one factor in protecting your home against wildfire. For other publications see
www.montrosecfa.com.au
Further Details
Victorian National Parks Association -
www.vnpa.org.au
Montrose CFA -
montrosecfa.com.au
---
The Kevin and Jill Heinze People's Garden

An indigenous garden was designed and planted by MEG members as part of the Kevin and Jill Heinze People's Garden. It aims to showcase a number of indigenous species that are desirable garden species, particularly for the replacement of exotic species. Follow up weed control, maintenance and further plantings are carried out once a year at the MEG working bee.
The People's Garden is at the back of 9-11 Stradbroke Road, and it can be accessed from the back of the Montrose shopping strip car park, near Mt Dandenong Tourist Road. MEG's indigenous garden is at the far end of the People's Garden.
---
Montrose Playground

MEG has been involved with weed removal works and revegetation of the remnant vegetation surrounding the Montrose Playground (next to Montrose Recreation Reserve), as well as initial preparation of signage for the area.
The Montrose Playground is located on Mt. Dandenong Tourist Rd, Montrose (Melway map ref. 52 D8).
More details at montrosereserve.org.au/playground.html.
---
Walkabout Montrose by Kim Wormald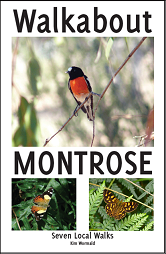 The Walkabout Montrose book was created by a group of enthusiastic and talented MEG volunteers to promote the wonders of the local environment in Montrose and surrounds. It offers maps and interesting environmental and historical information about seven walks through local reserves. The book is available from several stores in the local Montrose shops. More information at Eastern Regional Libraries.
---
Spinuolsa Newsletter
The MEG newsletter
Spinulosa
is sent/emailed to members four times a year, and is named after the local shrub
Banksia spinulosa.
It contains:
- Updates on recent activities of MEG
- Details of how and when you can be involved with MEG activities
- Information on local environmental issues that may affect you
- Articles on a range of topics including locally-relevant ecological information, tips on how to create habitat in your garden, sustainable living, and much more
If there are topics you would like to know more about,
contact MEG
and we will see what we can do about including an article in the next Spinulosa.
Below is a selection of past
Spinulosa
newsletters containing interesting articles including a summary of MEG's activities for 2015, growing locally indigenous plants in your garden, population growth, issues regarding local developments and the Kilsyth South Spider-orchid. There is also a history of the early years of MEG.